SmartAir Master
Superior control solution with great energy-saving potential
Compressed air systems typically comprise multiple compressors delivering air to a common distribution system. The combined capacity of those machines is generally greater than the maximum site demand.
Remote monitoring and visualization
Several options are available for system data to be viewed at remote locations including the internet.
SmartAir Master Connectivity
The complete air installation can be monitored via field bus. These features include a warning indication, compressor shutdown warning, and maintenance schedule. An easy connection to a Profibus or Modbus-RTU network is ensured.
Via LAN network the complete compressed air installation can be visualized. An unlimited number of users can access the online visual display system via the optional webserver module without any loss in speed. The users can visualize selected data of the compressor system via PC. Email messaging ensures automatic notification of faults, warnings and statistics.
Great energy-saving potential
Energy management is crucial for all compressed air users, as the highest cost factor of a compressor is the energy to run it. Over a period of five years, energy accounts for roughly 80 of the total costs.
However, this high percentage of energy use also means that there is potential for high cost savings.
Compressed air systems typically comprise of multiple compressors delivering air to a common distribution system. The combined capacity of those machines is generally greater than the maximum site demand.
SmartAir Master, the efficiency of compressor stations with up to twelve compressors including downstream equipment can be maximized. Apart from the energy savings, the compressed air management system also contributes to decreased downtime, optimum performance, service and monitoring and ultimately leads to increased air station plant productivity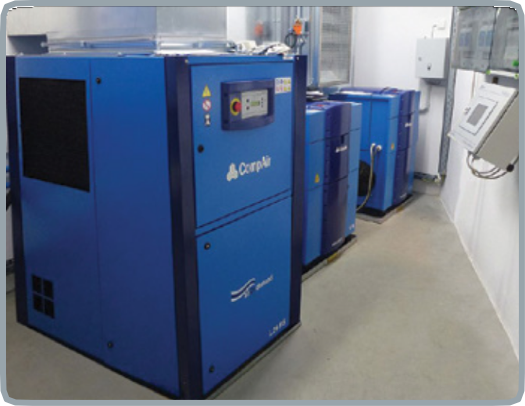 A profitable investment
Harmonizes the workload of up to 12 fixed or regulated speed compressors
Eliminates energy waste by tightening the network pressure to the narrowest pressure band
Equalizes the running hours for economic servicing and increased uptime
Every 1 bar pressure reduction in the system reduces energy consumption by about 7%.
The powerful control tool. The touchscreen display allows plant managers a comprehensive overview of the complete system including downstream equipment to help improve the complete network performance.
A modern set-up assistant guarantees a short set-up time by guiding the user through the process. * All input parameters are individually confirmed ensuring each setting is correct.
The additional help function gives access to connection diagrams and controller settings.
Convenient operation
CompAir's state-of-the-art SmartAir Master compressed air management system has been designed and developed with focus on operator convenience and ease of installation. Thanks to the graphical presentation, the sequencer is very user- friendly and is operated via the intuitive touch-screen panel.
The home page gives a clear overview of the compressed air station.
Network pressure, pressure range and compressed air consumption
Individual status display of each compressor connected
Fault and warning message for each compressor listed along with the exact time and date in plain text fault memory
Operating and load hours of every individual compressor
Advanced Microprocessor Technology
Safe and fast exchange of large amounts of data is ensured by large memory capacity using the latest microprocessor technology.
Easy installation • Low investment costs
Reduced downtime • User-friendly operation • Detailed management reports
All CompAir controllers can be connected without extra hardware